Every year I meet some of my school friends; by school, I mean those you study with during primary and higher secondary school. This time around, we were meeting in Europe. A friend and I was flying from Bangalore, while others were flying in from the east and the west
Watch the below video for a quick view, else read along
As we were waiting in line at the check-in counter, an official approached me and asked
"Sir, where are you going?"
"To Amsterdam, with a stop over in Dubai", I replied
"Sir, would you be ok to take the next flight to Dubai, which is after 4 hours, coz we are overbooked on this one?"
I asked him how that would impact my connecting flight. He went off to check and returned shortly informing that I would land in Amsterdam at 18:00 local time instead of the earlier landing time of post noon. This worked out perfectly because the US friend was also landing at 18:00 hrs and we could also leave the airport together
I discussed the change with my friend, who was also ok with it. We decided we will spend the additional 4 hours chilling in the lounge
Shortly later, the official came back with our new boarding pass and to our surprise, he handed us a free return ticket, which we could redeem within a year!
This blog is about how I used this complimentary roundtrip ticket to do a solo trip to view the Northern lights!
Research
Now that I had a complimentary ticket, I mused on where I should go. I could fly to any of Europe's most touristy destination however I do not enjoy doing the touristy things, where you have a checklist of items to do & you keep checking them off
The thought of a plausible destination was running for a couple of weeks post the re-union and one day I stumbled upon an Instagram feed on Northern Lights. This anchored me to the idea of traveling to view the northern lights
Next I needed to know where should I fly to, to view the northern lights. I did some research and got a lot of recommendations on where one can go to see the aurora however I still could not narrow down my search. I then messaged Kevin, whose instagram feed had trigged me on the above decision. He suggested that Tromso would probably be a good place
Now that I had a destination, I narrowed my research on Tromso, the weather, the clothing needed, best time of the year, etc. Post the research, I decided to fly towards the end of December, wherein the probability of sighting was high. Tromso being in the north of the Artic circle, meant that there would be no sighting the sun during winters, so one would have longer nights, thereby increasing the probability of a sighting. I had also planned a few other places along with Tromso, more on that in a different blog post
Preparation
From an earlier trip to Kao Tao Island in Thailand, I had sworn that I will travel light with no extensive camera gear. So this time around, although I was traveling to the Artic winter, I decided to honour my promise and travel light
Overall I was spending 2-3 weeks between Norway & Finland and I had to keep the duration in mind on deciding the number of clothes needed for the trip. I researched on the kind of clothes and jacket needed, while I got a ton of information, I had to decide what would be optimal for me considering the constraint that I had put on myself; I would carry everything in a cabin baggage, thereby limiting the size and weight to 7 kg
Through my research, I knew I should avoid all cotton clothing, for one, they don't dry quick and secondly when you sweat, they will soak up the sweat, remain wet longer and also stink. A popular but a relative expensive alternative was to use merino wool
I visited the nearby Decathlon and bought the following items
| | | |
| --- | --- | --- |
| Item | Qty | Cost per piece (Rs.) |
| Merino wool thermal top | 2 | 2499/- |
| Merino wool thermal bottom | 2 | 2199/- |
| Light weather proof jacket which can handle up to 0 C | 1 | 999/- |
| Wind and waterproof trekking trouser | 1 | 3499/- |
| Large heavy pant with gaiters | 1 | 3999/- |
| Synthetic waterproof parka with hood which can handle up to -20 C (Down jackets are lighter but aren't waterproof) | 1 | 6999/- |
| Jumper sweater | 1 | 799 |
| Merino wool hat (this was more like a cap which you can pull over your ears) | 1 | 699/- |
| Ski hat | 1 | 499/- |
| Neck warmer which had strip of wool along the neck | 1 | 299/- |
| Silk glove liner | 1 | 599/- |
| Waterproof gloves | 1 | 2999/- |
| Synthetic woollen socks | 2 | 899/- |
| Non cotton briefs | 5 | 349/- |
| Trekking Backpack 50L (2.3 kg) (I had this earlier but adding it here for completeness) | 1 | 5999/- |
| Mountain trekking shoes – waterproof (I had this earlier but adding it here for completeness) | 1 | 5999/- |
| Waterproof woollen socks gifted from a friend in NZ | 2 | – |
Checklist of items for cold weather travel
I would later realise during trekking, that even the small strip of wool in the neck warmer, would make a sea of difference. Fighting cold is all about layering yourself. It is not about how thick your jacket is but how many layers of clothing you have worn, for this reason, as you start looking at outer clothing, you would need to pick a size or two larger than your normal size
These were all the apparels that I carried and all of them, including the parka fitted into my backpack cabin baggage. Apart from this, I was carrying my Canon 80D with 3 lenses – the 18-135mm, 10-18mm and 50mm prime, GoPro with a floating stick, charging cables, power bank, kindle and sun glasses. All these too fitted in the detachable attachment of the backpack
Journey to Tromso
During my solo trips, I reach the airport pretty early and prefer to chill out in the lounge. This time too, I reached the airport early, got my boarding pass from the check-in counter, where the attendant asked me twice if I was sure I had nothing to check-in, considering this was a long distance flight
I cleared the passport control, security and settled in the lounge with a glass of wine and some food. Since I was flying Emirates, I knew the drill and food & drinks was something that I needn't worry about, at least until I reached Oslo, post that I was travelling in low budget airlines. At that point, I totally felt at home!
I had another glass of wine, finished off the food and moved to the seating area of the lounge. Considering the time of the flight, I guessed most of them in the lounge were in the same flight to Dubai. My itinerary was, Bangalore to Dubai, with more than a 5 hour layover, then Dubai to Oslo, where I would land at 12 noon local time. My next flight was at 17:00 hrs to Tromso, where I would land at 19:00 hrs. I had booked it such that even if there were a delay in any leg of the journey, the probability of me missing the Tromso flight would be lower. In summary, from leaving home in Bangalore to checking in to the hostel, I would have been travelling for 24 hours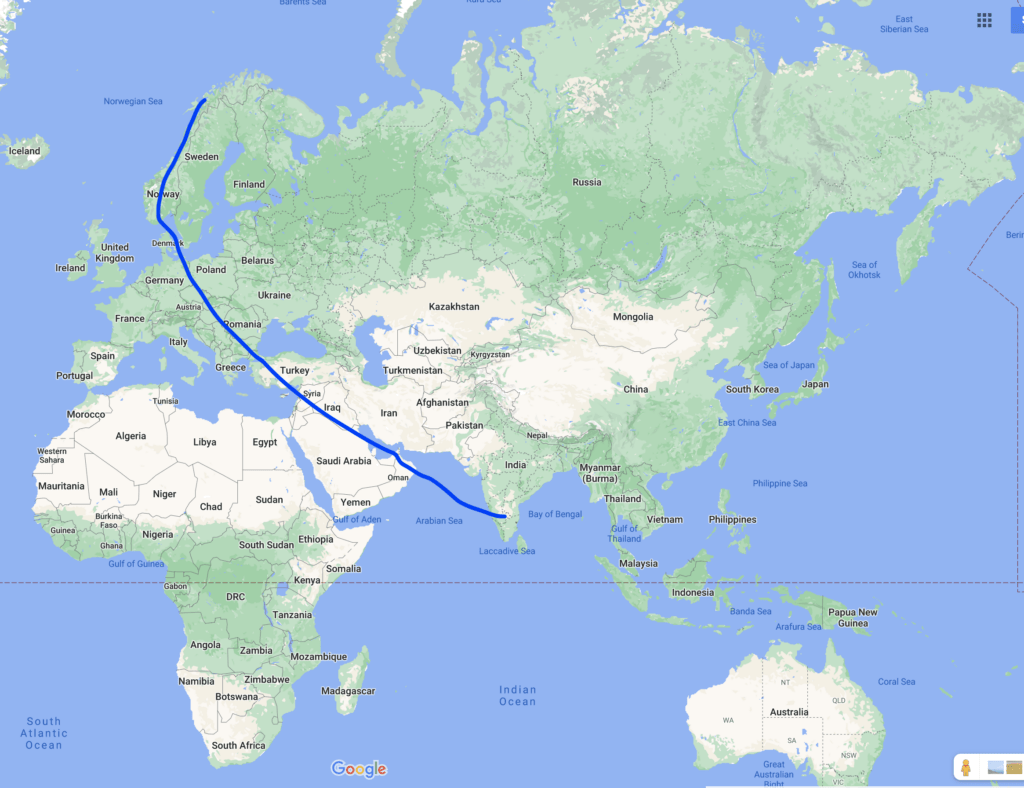 As I had guessed, the flight to Dubai was almost full. I chatted with my neighbour who was a NHS doctor in UK. He was returning back home with his family. We chit chatted till we were served our meal's and drinks. At Dubai airport, I went to Marhaba lounge, it was past 23:00 hrs and I was full. I picked up some dates and a drink and went to the seating area for a nap
When I woke up, I saw a girl next to me reading a book on Emotional Intelligence. Our eyes locked and we ended up chatting from politics to life in Dubai. After an hour or two, she had to leave for her flight and I returned back to my slumber. One of the best things about solo travel is the opportunity to meet diverse people and exchange thoughts
The trip from Dubai to Oslo was the opposite of the Dubai flight. The only people in the flight were a large group Pakistani television artists flying to Oslo for an award ceremony. Each of us could pick a row and lie down. While serving drinks, the air hostess offered me couple of nip bottles! The flight was amazing coz I could have sumptuous food and sleep across the three seats
At Oslo, it was uneventful. I had a few hours at my hand, so I walked around the airport and yes, the prices of everything were considerably expensive compared to other parts of the world. I spent my time reading my kindle. In my flight to Tromso, the lady next to me told me that she was a Sami. Sami is the local tribes in Tromso who were legally allowed to raise reindeers. In fact she advised me to visit a Sami camp and experience their traditional way of life
As we were losing altitude to land, I asked her the best way to reach the hostel. She advised me to take the bus and buy the ticket from the machine rather than buying it in the bus, as the latter is much more expensive. I did as per her advice and I later got to know from my roommates that they had spent a much higher amount, as they weren't aware of the differential pricing
In the bus, I was using my google maps to give me an indication on my drop location. The thing about Norway is, everything is automated, including the check-out counter in supermarkets, so there is less interaction among people. I sat next to an African student, who mentioned that she was surprised that tourists were travelling from all over the world to witness the northern lights. That was an "everyday" affair for her! She also told me about a ticket booking app that I could download to help me book tickets online, rather than having to find a machine
Stay in Tromso
I had booked Tromso Activities Hostel. The rating for this hostel were pretty high and it was walking distance to most places in Tromso. On hindsight, by far, this was one of the best hostels that I have ever stayed. The hostel by itself is a quaint two storey home remodelled into a hostel. The very design of this hostel encourages collaboration. On the ground floor, from the entry, through a passage you enter the kitchen, which opens to the living room area. On both sides of the living room area, you have bedroom with bunkers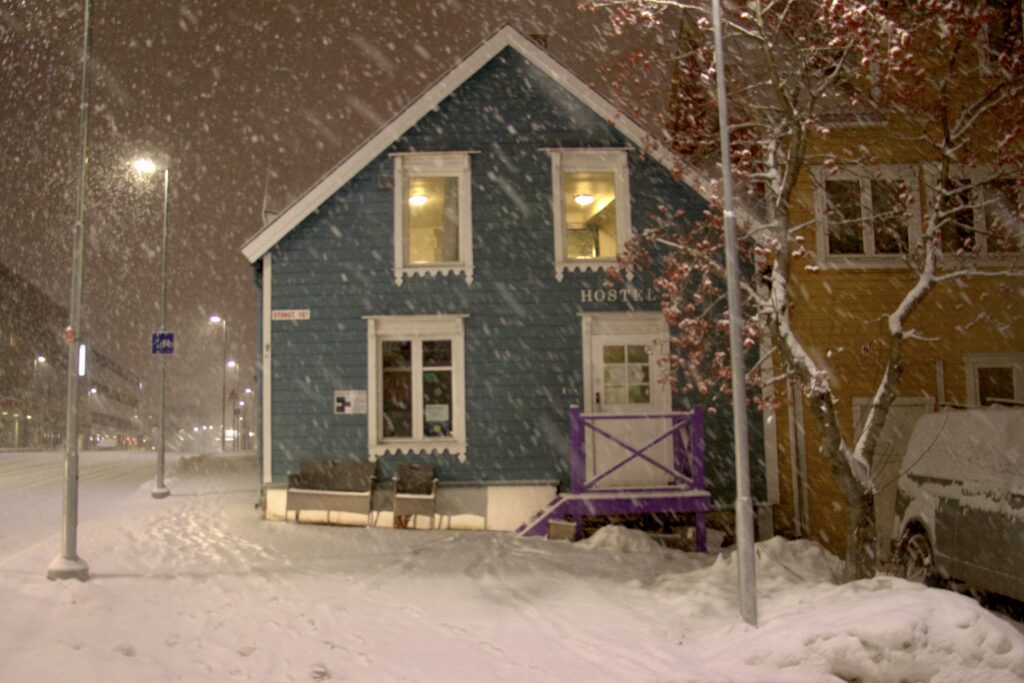 Due to this design & the fact that in winter, there is only a few hours of sunlight, most people return back to the hostel and stick around in the living area thus collaborating with others
The very night I reached the hostel, two others also arrived. One was a student from Turkey and the other from US. After initial pleasantries, I mentioned that I was stepping out for dinner. The Turkish guy, who's name is Orcun, told me he will come along. As we were walking, he said that he would buy stuff from a local supermarket and would rather not eat in a restaurant as it is very expensive
It occurred to me that it would be awkward for me to eat while he watches and I considered paying for him. On second thoughts, I thought I will try his method and see how it goes, after all I had a many more days to experience the hotels. This decision that I took that night, had probably saved me a a quarter to half a lakh of rupees, as I got inspired to cook local food during the entire trip, rather than binge at restaurants
Trek to Fjellstua
Orcun was a trekker & an outdoor camper. He had brought along his tent and camping gear. He told us that he was planning to trek the Fjellstua mountain. Fjellstua was a tourist spot, where tourists take the cable car and go up to the viewpoint
We were ready to trek and decided to start around 10ish, so that we can return back to the base by 14:00 hrs, just before we lose day light. The trekking route was closed due to heavy snowfall however all of us were game to give it a try
Unlike the cable car, the trek had to be done in a circuitous route and it was challenging; it was not just the steep slopes, the recent snowfall had covered up the tracks, so in certain places you would take a step and your leg would be buried in the snow almost up to your knees. You should watch the linked YouTube video to appreciate it
As we started gaining altitude, the light improved and we got an awesome view of the entire Tromso city. We kept hiking up and reached a level higher than where the cable car would have taken us. In the woods, multiple times, we heard sound of a wild animal, which we assumed must have been reindeers

After our photo sessions, we started climbing down. I had a long night, as I had booked the northern lights tour. On the way down, we filled our bottles with fresh water from a creek
Chasing Northern Lights
That's right, its called "chasing" the northern lights. Seeing northern lights is a hit & miss as it is totally dependent on the vagaries of the nature. To have a good sighting, you would need to go north, further away from the city lights which pollutes the sky
I had signed up for the Northern lights with Tromso Activities hostel. They conduct a private tour, which on hindsight, was a brilliant choice, considering the benefits of traveling in a smaller group. There are many agencies which take you to spot the northern lights, some of them have an audience as big as a bus of people. If your tour group is big, along with that comes the constraints of having to find a spot which can accommodate the whole group and added to it, all of them would be clicking away with their flashes on – which is a no-no in this situation!
All the agencies provide the option of a one day chase to a package for a week, the latter being cheaper. The chase starts at around 20:00 hrs and you may return back as late as 02:00 or 03:00 am, so doing a long term booking could be detrimental to your other activities during the day. I had booked for two consecutive nights, just to be on the safer side, in case I couldn't sight the lights on the first go
At around 20:00 all those who had signed up for the trip huddled together and walked up to the van. We started driving north and the driver was constantly in touch with others exchanging information. We initially stopped at a place and in a short time he got a call that the forecast for sightseeing was favourable still up north
So we further travelled north until we reached an isolated spot. All of us wore our jackets, gloves and walked into the fields. There was a photographer from the agency who set up his tripod and was doing portraits with the sky as the background. I joined along and as you can see in the image, you could see the faint suggestion of the northern lights. This wasn't visible to the naked eye, however with a slow shutter speed, the lights were visible in the camera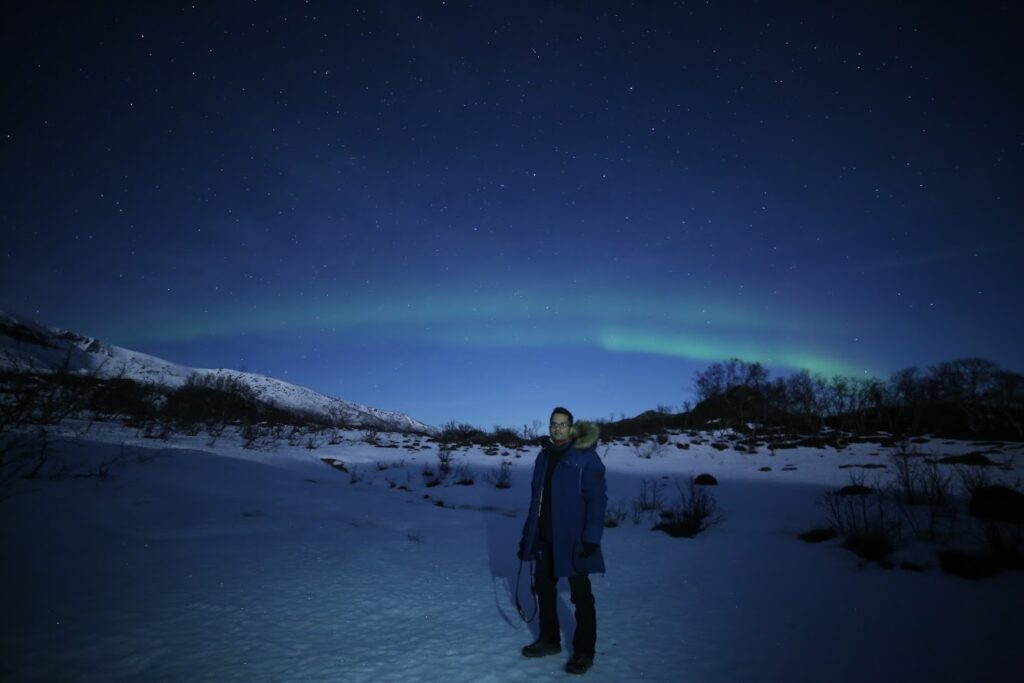 Some of us comforted ourselves that at least we did see a suggestion of the lights & we had the photographs as mementos! Meanwhile, the organisers had set up a camp fire and most of us huddled around it and we were given generous helping of hot chocolate & marshmallows. The guide kept us entertained with stories and some of us eventually walked away into the darkness with our cameras
After an hour or so, suddenly someone screamed and when I turned around to see what she was pointing too, I saw the northern lights on the far side of the sky, opposite to where we had initially spotted on the camera. The lights were getting stronger and clearly visible to the naked eye. Most of us ran into the darkness with our cameras and started taking snaps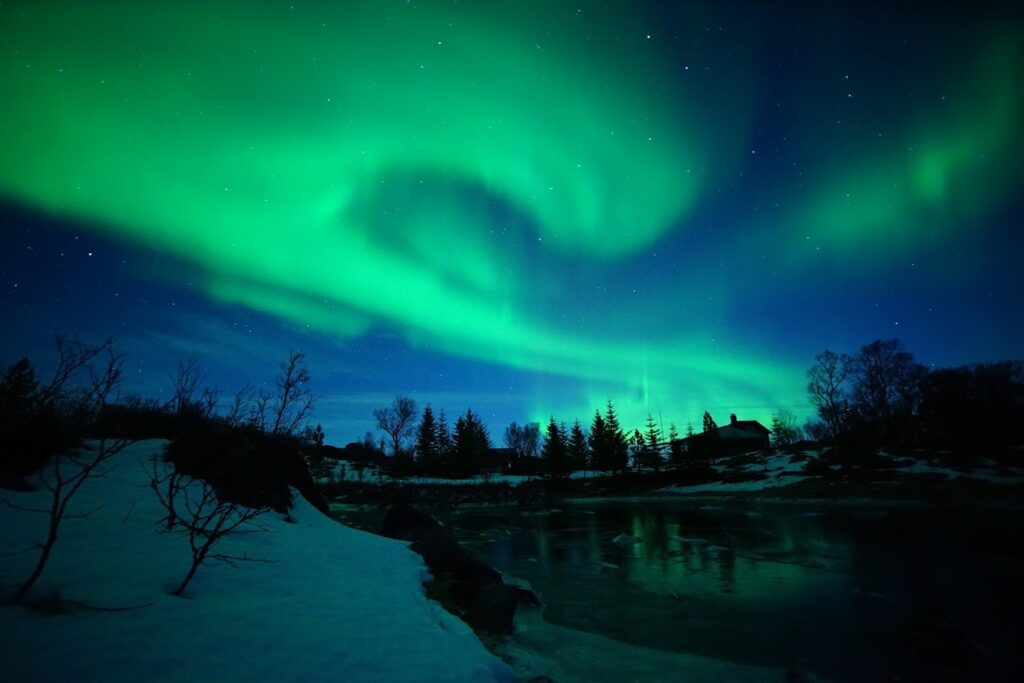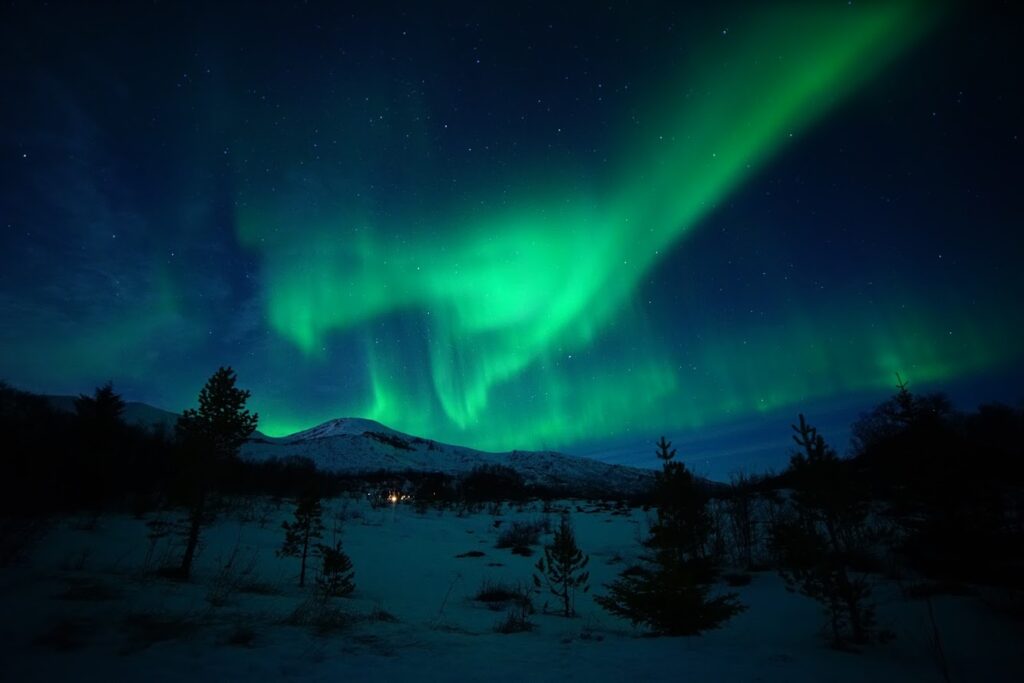 As the night wore on, the lights became stronger and they were "dancing" with different hues of colour. It was one sight to relish
After a considerable time, I got tired and lay down on the ice & looked up into the sky. Although it was pretty cold, my clothes were keeping me warm. I was wearing the thermals, the sweater, the 0 degree jacket and on top of that the parka. Below, I was wearing the thermals, windproof pant and the heavy pants with gaiters. I was wearing the synthetic wool socks, over which the waterproof socks from New Zealand and I had covered my socks with a plastic cover. My shoes were already wet from the earlier trek. My head was covered with the merino skull cap, the synthetic woollen cap and the parka's cap and the neck warmer was protecting my neck
All these kept me cozily warm, even though I was lying on my back on the icy floor and enjoying the view of the dancing sky
Somewhere past midnight I felt exhausted, the 24 hours travel the day earlier, the trek and the northern lights chasing must have caught up with me. I had had enough of the lights; I now understood what the African student had told me in the bus. I walked back to the van and relaxed inside. In another 15 minutes, others too started pouring in and we eventually headed back
We would know later that this was one of the best sightings for the season and our guide won a photo contest! Meanwhile, as we drove back, I emailed the hotel to cancel my next day's northern lights chase. They were kind enough to fully refund. the amount
Visiting Sami camp
Some of us in the hostel planned to go to a Sami camp. We had discussed this plan a day earlier and had booked online. The boarding place was walking distance from our hostel, next to the harbour. Now that I had handled the hardest part of bearing the cold out in the night in open fields, I knew exactly how many layers I would need for a day trip which required less physical activity
I wore my thermals, sweater and the parka. As a rule, I wore two pairs of socks and always used the plastic cover as a make shift arrangement because the shoes was pretty wet with all the adventures I was putting it through
The Sami camp was around an hour's drive from Tromso city. Being away from the city. it was colder. As we got off the bus, we were ushered into a camp with camp fire. The head of the Sami camp, a lady, gave us a briefing on the itinerary
"You can pick up a bucket, fill it with the manure and feed the reindeers which are out there in the open", she said
These were wild reindeers but domesticated enough not to harm humans, unless provoked
"Be careful of their horns & when you feed them, keep the bucket at arms length so that the horns don't poke you", she advised
Post the feeding session, we could ride on the reindeer sledge, after which we would be served lunch & tea. After these activities, we would have to come back to this camp and would be briefed on the history of Sami tribes
We filed out of the camp, picked up the buckets & the feed. As soon as the reindeers saw us, they came running from nowhere. This place was in a wilderness expanse and we were walking over a frozen lake. The terrain was very slippery and on certain instances, I found the reindeers themselves slipping!
When they come to feed from the bucket, they are quite aggressive and sometimes it is best to place the bucket on the ground, step back, watch them and take snaps!
After I had exhausted my feed, I went around taking snaps and eventually most of us started going into the food tent. From the harsh cold outside, this was a happy place buzzing with people, illuminated with candle lights & the light from the fire place
For lunch we got hot reindeer soup and the vegetarians got potato soup. The soup was delicious, especially having something piping hot in that cold weather made it all the more delicious. A Belgian friend & I took two serving of the soup. Post this we went into the next tent, where we were served piping hot chocolate with delicious cookies
Once we were done, we went back into the main camp, where the Sami lady gave us a talk about the benefits of the reindeer and how it was an integral part of their culture. They explained that not a single part of the reindeer were wasted and also explained the medicinal benefits. The one request which they hoped the world would know was that their lands were in danger due to commercialisation and moving this camp away would endanger the reindeer population. This was the mating season, where they were most vulnerable and in summer they would be let out into the wild and during winter, they automatically came to this camp. So the request from the Sami lady was to spread the word and help support them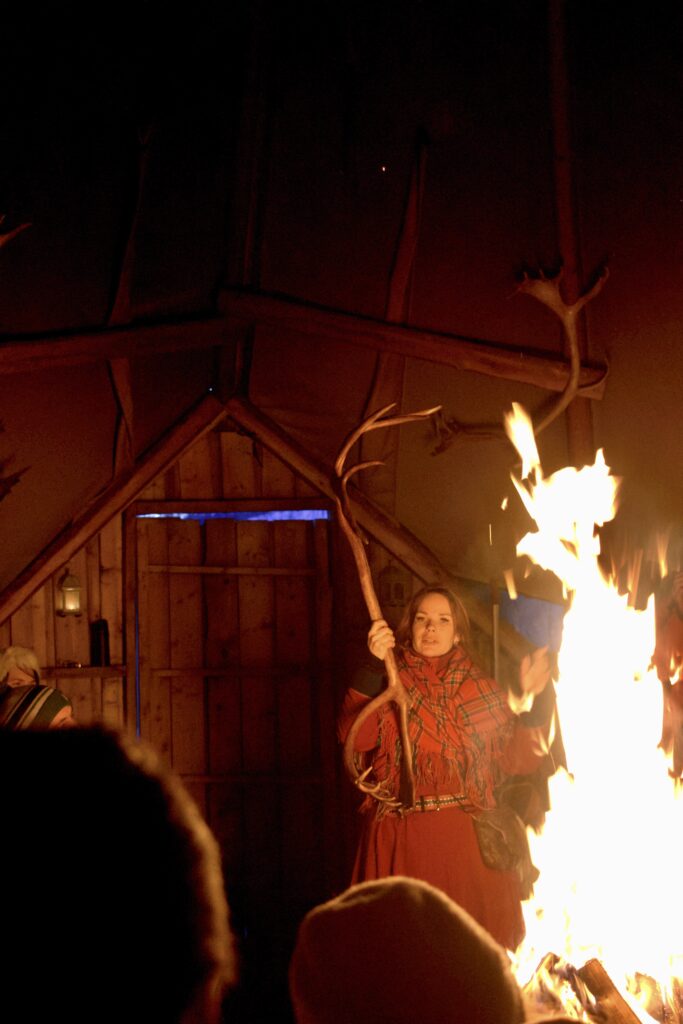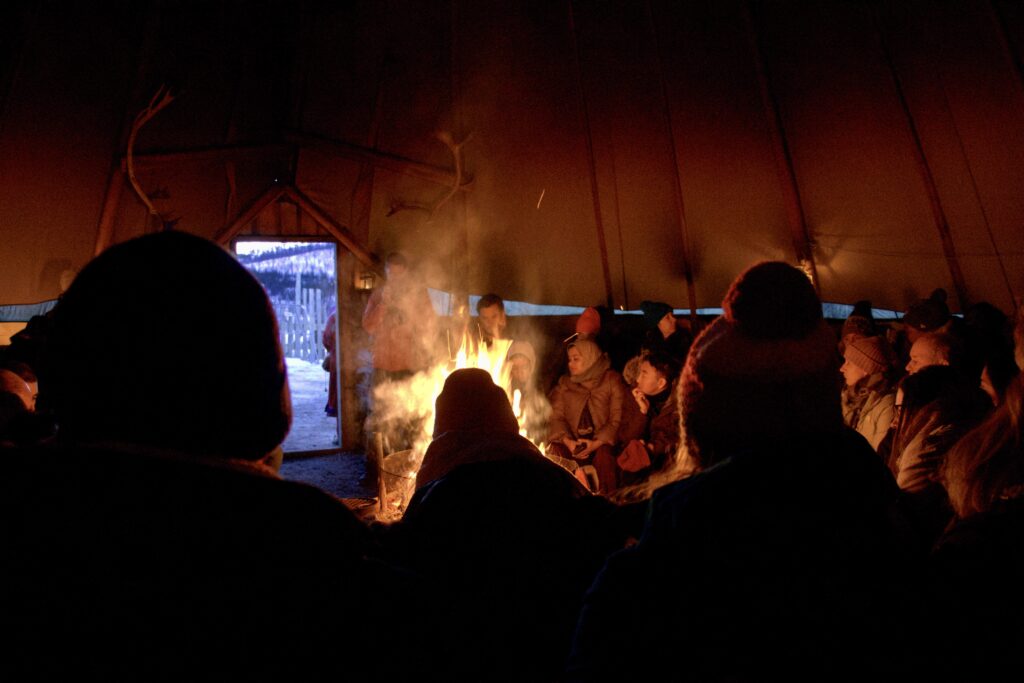 Once we had exchanged views, all of us filed back into our bus to go back to our respective places of stay
If you liked this article, then do signup for my newsletter, follow me on Instagram and YouTube and share the post. I also write on varied topics such as this