I recently had a series of frustrating 'encounters' with GoDaddy where they weren't solving my issue holistically. This got me thinking and for today's blog, we need to start with these five questions
Who gets the highest remuneration in a company? Probably the CEO
Who would be on the lower end of this spectrum? Most likely the front line workers
Who is most important for the survival of an organisation, apart from the employees? The Customer
Who has the highest touch point with the customers? The actual product, followed by the front line workers
Who directly controls customer experience? Again, the product, followed by the front line workers
When does a customer reach out to an organisation? Most probably when the product or service is not working satisfactorily
It needs no PhD. for one to realise that front-line workers are the most critical for an organisation, next only to the product being sold, however in the hierarchy they're at the bottom of the pyramid
Lets jump into what issues I had faced with GoDaddy
The original issue
I realised that my site was hacked and there were around 1000+ blogposts. The blog posts were mainly revolving around casino's & gambling. This came to light when I reviewed a report from google. I logged in to my admin panel and bingo, on 14 Feb 2021, more than 1000 blogs were published, all at the same time
GoDaddy Experience
Contact 1:
I immediately contacted GoDaddy support and after the standard trouble shooting questions, the customer support executive ran a malware check and informed me that my site was infected and I was advised to buy their pricey website security which gave me the option to run malware checks and an enhanced firewall protection
I signed off giving a high rating
I mused over the options and decided rather than experimenting other solutions, it would be wiser to go with GoDaddy, as then GoDaddy will be managing my complete solution including the existing managed WordPress
Contact 2
I contacted and provided my consent to buy their product. The executive provided me a link and guided me with the process and a ticket was raised to remove the malware. I was told that the issue will get resolved within a few hours
I signed off giving a high rating
Contact 3
When there was no update after 12 hours, I contacted customer support and was told that the SLA was 24 hours
I signed off giving a high rating
Next day I received an email informing me that the malware was removed. The 1000+ blogs still existed however the malware was removed. I was also directed to a link which explained on how I could protect my site
Contact 4
While I was reviewing the contents in the link, I realised that the firewall was not enabled, when I tried enabling, I got an error. So I contacted GoDaddy again. The executive urged me to try it once more from my side and I faced the same issue. The executive then said he will do it from his end and he enabled it
Relieved, I retired for the night and gave a high rating
Contact 5
The next day, when I typed in the URL, a warning was thrown informing that the URL is not secure and it warned me against entering my website. This was concerning because I had posted my URL in multiple sites and once someone see's this error, I can kiss goodbye to future visits
I contacted GoDaddy and explained the sequence of events and the issue. I was told it is a plug-in issue and I would need to uninstall the plug-ins one by one and check
"But I haven't updated any plug-ins, wordpress version hasn't changed, the only change is enabling the firewall", I retorted
"No sir, please uninstall the plugins" replied the executive
"Can you raise a ticket because I am sure it is not a plugin issue. I googled this issue and it is because of the firewall DNS"
"Sorry sir, I cannot raise a ticket"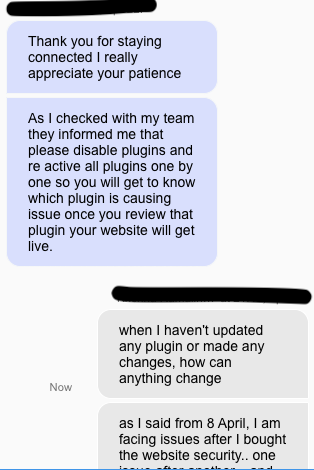 I ended the chat as it was going nowhere. I don't recollect getting a prompt for rating
Contact 6
After few minutes, I reinitiated the chat with another executive
I had to repeat the whole history. This time I was relived that he agreed that it must be a DNS issue and he guided me to update my settings
"Sir this should solve the problem. It will take up to 48 hours for the DNS to get updated"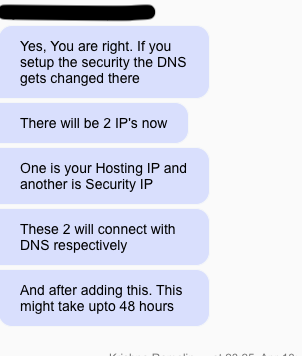 "Thank you, you were very helpful", I replied
I signed off giving a high rating
Contact 7
The next day, I was happy to see my website working properly. When I casually checked the firewall setting, it was turned off!
I again contacted GoDaddy and explained the sequence of events and told that I would need the firewall to be enabled
"Sure sir, I will do it and you won't face any issue again", saying that he enabled
Knowing from past experience, I tried accessing and I got the same warning that the website was unsecure
I explained that I am getting this warning and the agent said that he will raise a ticket with the Sucuri team, who would resolve this in a few hours although the SLA is 24 hours
I thanked him and signed off, realising that the previous executive hadn't solved my problem. Thinking that it would not be fair to give a poor feedback on this executive, I rated him high, although I was frustrated with GoDaddy
Contact 8
It was past 24 hours and the issue was not yet resolved. I contacted GoDaddy again and the agent told me that it is a plug-in issue. This time armed with the ticket number, I could defend why it was not a plug-in issue
"Sir, our team is working on it. It will get resolved soon", answered the executive after checking the ticket status
"How long will it take?"
"Sir, the SLA is 72 hours, so please wait"
I was shocked. I was told earlier that the SLA was 24 hours and here I was told it was 72 hours!
Feeling helpless, I closed the chat
I couldn't rate this executive badly, for she probably gave me the correct SLA and the goof-up must have been with the earlier agent where I gave a high rating
Contact 9
After 48 hours, the ticket got updated that a malware check was complete
Flabbergasted, I updated the ticket clarifying that the issue was not malware and I explained that post enabling the firewall my DNS setting had to be updated. I noticed that the executives used to only put a one-liner and whoever worked on the ticket had no background on the issue
Contact 10
I saw no movement in the ticket, so I again contacted GoDaddy. I had to go through the same drill with no use
Contact 11
After another day or two, I got an update on the ticket with a list of things that was done
I checked the site and was satisfied that the issue was holistically fixed. I made it a point to update the ticket with a thank you message
The next day, I sat down to update my recent podcast and when I clicked on "Save draft", I got the following error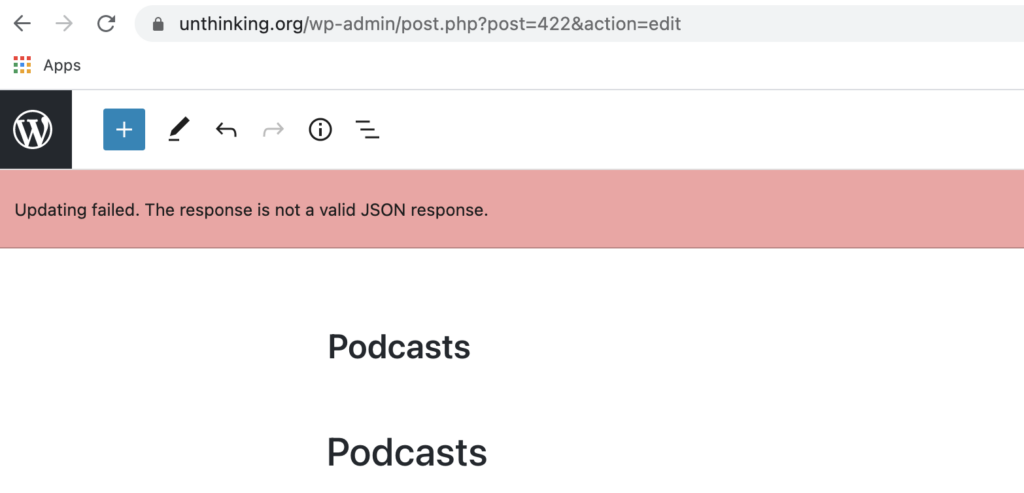 Frustrated I contacted GoDaddy again
The executive was firm that this was a plug-in issue and I had to uninstall all of them and if that fails, I will need to restore my site from an earlier backup. This time around, the execute ended the chat when I tried to explain that is not the issue and to please raise a ticket with Sucuri team
There was no way of providing feedback when the Executive ended the chat!
Contact 12
To do my part, I uninstalled all the plugins but the issue still persisted
I contacted GoDaddy again and after the first 15 minutes of waiting plus the back & forth conversation of why it is not a plugin issue, this executive was kind enough to raise a ticket!
I thanked and was confused on what rating I should give
Contact 13
This time around, the moment I got the ticket, I logged in and gave the complete history rather than the one liner which the executive had written
I waited for 48 hours and when there was no update, I again contacted GoDaddy with no real help
The end
By this time, I had given up on GoDaddy, I was frustrated coz I had signed up for a 3 year lock-in and they had no money back policy post the initial cooling off period. Sometime that week, I got an e-mail informing me that everything is fixed
With fingers crossed I checked and everything seemed to be working well. I was too exhausted to continue these late night, after office hours drills with GoDaddy team. An average chat lasts for 20-30 minutes, probably because they are short staffed. So each of these chats ate into my sleep time for almost a month
Observations
This was not the first time that I faced dissonance between the information provided by two GoDaddy executives for the same problem. I faced the same when I had a two factor authentication issue when I changed my mobile. Either there is a large gap in product knowledge between two executive or they are referring to different trouble shooting materials
The problem resolution is myopic, by that I mean, while fixing one issue, they don't analyse if the fix would have ramifications on some other service
The first assumption for all issues are that it is user created or they are from plug-ins. Some executives are adamant not to raise a ticket for backend investigation
The executives are not trained to inform the SLA and set the right customer expectation. I wonder how such service would be received if one is running a business website!
Circling back
The original 6 questions and its answers are the state of most businesses. The weakest link in the chain is the person interacting with the customer and if companies don't invest enough in them, customer retention is only till a competitor enters the market with a better or a cheaper service
The power of moments is a book which dwells into how Businesses can make defining moments for customers, when faced with similar issues
If you liked this blog, do like, comment and share it. You can read more from my website